HOME | COMMUNITY | FAMILY | CAREER | LINKS | EMAIL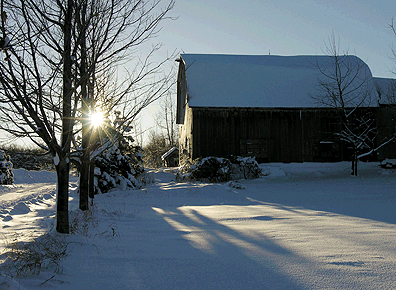 This is our third Christmas on the farm and it's a white Christmas despite this month's UN conference on global warming in Montreal. In fact it was a white October which created havoc for the apple harvest. We like our isolated perch on Covey Hill. From here the city skyscrapers seem far, far away on the horizon. But we have realized that we can't let this 110-acre property consume all of our time and money. Between farming and parenting our professional careers have been put on hold. We are striving for a better balance of working out of our strengths in 2006!
This year, 2006, marks 25 years that I have lived in Quebec. Next year will make it half my life as a Canadian. We are fortunate to have become a part of the tightly-knit rural community of the Chateauguay Valley while maintaining contacts in the very unique city of Montreal. French and English live side-by-side here but there is still an underlying political tension of Quebec's desire to separate from Canada.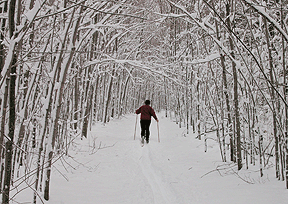 I must admit that I still call Pennsylvania "home." We make the voyage to Mars about 3 times a year for Easter, 4th of July and Thanksgiving. It's hard to look at the encroachment of shopping malls and suburban home development over the forests and back roads I grew up exploring. And the recent funerals for several close uncles and aunts as well as the parents of hometown friends make the distance between here and there feel so far.
Looking in the mirror is another study in aging. I wonder who that balding, wrinkling guy is; I sure don't feel as old as he looks!
But the inevitable passing of time has not changed everything. Several old acquaintances re-entered our lives this year after meeting up at funerals and weddings. After decades apart it seemed like we just took up where we left off. It is also reassuring to see how the next generation carries on the traits and traditions of their parents and grandparents. As in the song by the Rankin Family, "We rise again in the faces of our children." Seeing my boys aged, 5 and 8, brings thoughts of Kenny and me in our last Christmas together at exactly the same ages 40 years ago.
* * *
Click on the links at the top of this page to see more photos. And plan a visit to our farm in apple or maple syrup season. We need all the free labor we can get!
* * *