Calling all Photographers and Naturalists:
PHOTOGRAPHY ADVENTURES is back with a splash—a splash of autumn colours that is!

From Trip Leader Phil Norton....The moment we've all been waiting for -- a peak autumn colour trip to the Ontario wilderness known as Algoma, north of Lake Superior. Not only does this place and this season make this an epic experience, but equally superior are our hosts at the rustic Stokely Creek Lodge.

A unique aspect will be visiting rocky lookouts and waterfalls in the region where the Group of Seven began painting their world-famous landscapes in the 1920s. The new e-book "The Solemn Land" features a similar workshop held last fall with plein air artists. They are seven painters plus Gary McGuffin as the photographer referring to themselves as The Algoma Eight. We can call ourselves The Algoma f/8!

The workshop will include night sky and sunrise photography, rocky stream and waterfalls long exposures, drone photography demonstrations, easy hikes and driving tours along wild rivers and to high overlooks. Hoping for misty pines and moody fall scenes with oranges, reds and yellows mixed with white birch and evergreens! Bring your best and your worst photos if you would like a one-on-one portfolio review. We examine the IPTC metadata and see what you did right and could improve.

We will also "Do The Soo" with Bryan Davies of Tagona Press who I have gotten to know through the book projects, "A Four Seasons County Prince Edward" and our upcoming "Hastings County". Bryan's guided walk will include stops for snacks and drinks and guaranteed stories that have already captivated me since I've spent time with him. The scenery that surrounds Stokely Creek Lodge includes thousands of acres of the Algoma Highlands Conservancy, plus King Mountain Lookout and many waterfalls we can drive to with easy hikes into the bush. A.Y. Jackson painted at Chippewa Falls and try to see pictographs left by ancient artists.

See paintings by the Group of Seven on this tourism page which gives you suggestions on how to drive or fly into Sault Ste. Marie. You can plan a leisurely 2 half-days to drive in from Quebec and Eastern Ontario and then one full day driving back. As you know from past trips, our itinerary is somewhat flexible, weather-dependent and offers a wide variety of photo opportunities, from natural wonders to human characters, history and wildlife.

All meals are included in the package at Stokely Creek Lodge. And you can apply for a 20 percent accommodation "Staycation" tax deduction thanks to the Ontario government's Covid relief for tourism. A 5% gratuity is added to our room fees. Tax HST 13% is additional too.

We will be pioneering something that promises to become a coveted experience in the Northwoods with people who are working to preserve the forests and cultural traditions through art and photography and interpretive guides. It's Canadian ecotourism and cultural tourism at its finest. Your total cost for travelling to Algoma will vary depending on carpooling or driving your own vehicle (or Porter Airlines) and how much film you shoot! Just kidding (I think)…film, why not!

Contact me to work out precise costs of the workshop phil@philnorton.com (613) 827-3214.

Of course, much depends on the Covid situation and a seventh wave in Ontario. At this point, some of us live in households that have to be more cautious. You are welcome to wear masks and practice social distancing such as driving your own vehicle. Negative tests before arriving at the lodge will be appreciated. We are discussing a refund policy for any last minute positive-testing participant. Travel insurance is suggested.

Don't worry, you can take it easy on this trip. We're staying in one place for 4 nights and there is so much to see and do on the lodge property. As always you must sign a liability waiver which includes a model release for the use of pictures taken of each other during the workshop and a non-refundable payment to reserve. Bring along some pictures for a personal portfolio review and to project on-screen to the group during our evening slideshows. Samples of the lodge's rooms are included here but there are many more to choose from when you book. I can coordinate carpooling and roommates among registered participants.

Trip Leader Phil Norton's professional experience:

For 10 years 2012-2022, leading photo workshops and group travel to all points of North America, a career as a freelance photographer and writer and staff newspaper editor, 6 years in the photography department of The Montreal Gazette shooting daily news and feature assignments and in charge of the print and digital archives dating back to 1900, photo books include "The Ice Storm" 1998, "A Four Seasons County PE and Hastings" 2020, self-published the story of his 1979 - 1980 cross-country bicycle tour and repeated the journey in 2021 pedalling and camping from Canada to Mexico.

Assisted National Geographic photographers and writers on articles about the USA-Canada border and Montreal 1989-1990. Guide and translator for French TV travel in Prince Edward County, Ontario.

Stock photography and articles for Canadian Geographic about Jackrabbit Johannsen, acid rain and forest decline, the USA-Canada border. Frequent contributor to Harrowsmith Magazine 1983-2022.

Two Canadian National Magazine Awards 1983 and 1985. Owner and operator of an apple-maple syrup farm in southern Quebec, protected an old growth hemlock woodlot through the Nature Conservancy of Canada 2009. Summer camp director and naturalist for underprivileged youth at the Fresh Air Camp north of Pittsburgh.

All of his trips involve a mix of wild natural areas and authentic human culture and history. He promotes the use of smart phones and point-and-shoot pocket cameras for professional photography. "Always carry it with you and shoot first, ask permission later!"

During the COVID Delta pandemic in 2021, Norton bicycled and camped solo for 90 days from Canada to Mexico. He documented his journey with an Apple iPhone 12 and Sony RX100 pocket camera, no heavy DSLR.

Photo by Priit Vesilind of National Geographic.

Storm brewing east of Washington DC.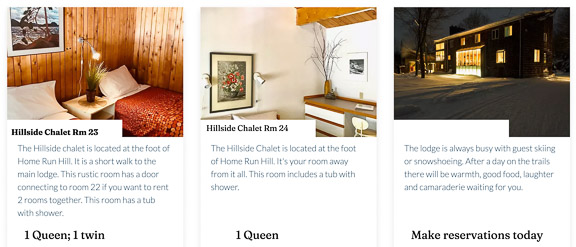 PAST TRIPS
Bird and Nature Photography tours
Prince Edward County, Ontario, Canada
May 2019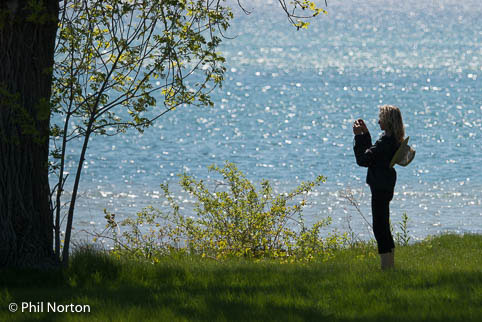 We have fun tramping around Prince Edward County looking for birds. This is one of Canada's prime migration hot spots, a staging ground for warblers, songbirds and birds of prey along a major North-South migration flyway. A committe is working on creating a national park here comparable to Point Pelee on Lake Erie.

Our annual bird and nature photography workshops will take place on May 17-19 and May 24-26, 2019. Also available for custom, small group tours at any time in English et en francais.

This is your opportunity to add some close-up shots of Ontario's most colourful birds at the peak of their mating season plumage. Each year we spot from 50 to 80 species in a 24-hour period as we visit a variety of habitats ranging from open lakeshore and marsh to old growth forest, grassy fields, even urban parks to check rock dove and house sparrow off our list!

In addition to observing and capturing dozens of bird species on camera, we experience nature's spring beauty as it arrives to our bucolic Great Lake island—woodland wildflowers, deer, fox, hidden waterfalls, and special access to private farms and rural properties. Prince Edward County, Ontario has many public natural areas and we donate to the organizations that protect them.

Along the way we cross paths with serious bird photographers with huge telescopic lenses and magnified flash units and we "talk shop" about our shared photographic passion. We always bump into well-known veteran naturalists and other avid nature photographers we know, all of whom "flock" to The County this time of year.

Our group dedicates mid-May each year to the birding marathon timed to correspond with the Birding Festival. Photography Adventures is registered with the Great Canadian Birdathon, a friendly competition to count as many species of birds as we can as a group within a 24-hour period.

Our regular participants include knowledgable birders and experienced photographers who live in the County and those who come from points west, north and east.

It's a great exchange of information on both counts, nature and photography and I know several with new telephoto lenses anxious to test them out when the birds begin to arrive.

Your instructor has been birding seriously since participating in the Quebec Breeding Bird Atlas in the 1980's. Phil Norton scouts out the current populations of birds in PEC all spring but we are always surprised by unexpected arrivals from the south after they make the 70-kilometre crossing of Lake Ontario.

Along the route you will learn a lot about birds and nature and even more about environmental issues affecting them. Phil is a long-time and current contributor to Harrowsmith Magazine on topics such as drinking water security, acid rain, forest dieback, nuclear waste, pesticides and energy. Harrowsmith recently published his article on the controversial wind turbines, a few of which we will see, completed and stopped during construction, on our tours. He has been leading weekly photographic outings in PEC since 2012 and is tied to the region's naturalist organizations, serving on Quinte Conservation's Source Water Protection Committee since 2007.

We will make visits to the bird banding station, specify if you would like to do so. There we will hike to the lighthouse and to the bluffs where patience will result in the close-up shots of many species of warblers, rose-breasted grosbeaks, numerous migrating species and water birds. We go out no matter the weather and will be grabbing warm drinks and snacks at stores and festival booths along the way.

Donations to our Birdathon page benefit the nature conservation organizations that make it all possible. When we are at the bird banding station, we encourage you to purchase their coffee, snacks, and merchandise or get a membership to support their work. You are also invited to enter their bird photography contest, deadline May 23.

Click here to see our Birdathon team webpage. Donations to this page are in addition to the workshop fee and will support bird migration research and the preservation of nesting habitat.

First-time participants must sign a liability waiver and there are no cancellations or refunds for these tours.
Canada's 150th anniversary 1867 - 2017

How will you remember Canada's 150th birthday. Will you do something special to commemorate this once-in-a-lifetime event? It is such a young country, each generation has a hand in how the nation will be shaped. It is constantly changing and it's up to the artists, writers and photographers to document the Canadian landscape and the people. A century ago it was the Group of Seven painters who set out into the unknown and brought back images that shaped the public's perception and instilled a love for a Canada few would ever see. We will cross their paths. Artists like Tom Thomson had a vision of Canada just as photographers do today. Our epic Photography Adventures will define Canada beyond Ontario as we trek east and west in 2017. Be a part of the travels and be a part of the photography and multimedia exhibitions to follow.
To wrap up Canada's 150th anniversary year, we are gearing up for another incredible photographic journey. Eastward. Join us for a 5-day tour of the heart of French Canada, the Saguenay Region and Quebec City, October 15-20, 2017. Details below.
The Saguenay Region of Québec - October 2017
Join the 6 photographers already signed up for these 5 days of autumn adventure.

3 nights' lodging with 3 breakfasts at the historic Hotel Tadoussac and a 3-hour whale-watching tour where the white beluga whales live. It also includes a night on the south shore in the nearly 4-centuries-old villages region of Quebec and another night in a villa on the mountainous north shore east of the capital city of Quebec.

There are so many amazing scenes that change through the seasons, weather conditions and times of day. We can't do them all but we'll have optional sunrise outings and we'll schedule in some down-time to enjoy our unique accommodations. Bring your laptop to edit photos over a glass of wine in the evening.

Quebec City and the adjacent pastoral island, Ile d'Orleans, will be part of our autumn tour into the heart of French Canada. The old city is a photographer's dream, day and night and the island is a rural trip back in time.

The package includes ride-sharing from Belleville, Ontario or Valleyfield, Quebec or Montreal and return.

We have participants from Cincinatti, Toronto and Quebec Province signed up, a great group!

We swung a sweet deal at the historic Hotel Tadoussac so get in touch NOW if you think you might join us. We have two other affordable lodgings that will get us close to the white snow geese, 350 year-old villages, wood sculptors and the tidal St. Lawrence River.

Two boat trips are included to see the white beluga whales, one of which is the ferry from Riviere du Loup.

Click here to view photos from our October 2015 trip that provided an interesting mix of bright sun and foggy, chilly weather which makes the best photos.

Room rates are for double occupancy. Private room extra.

See more images on Facebook.

Please connect right away so we can reserve rooms and tickets. phil@philnorton.com
Montreal, Québec maple sugaring time
April 8 - 9

Our photography trip to the Montreal/Southwest Quebec region will be more out-there-shooting than hang-out-at-the-lodge-and-drink-wine-while-editing-photos. As usual, this trip is designed to be affordable while offering the most authentic experiences.

Staying one night at the Manoir d'Youville, former Grey Nuns convent on Ile St-Bernard, an island across the St. Lawrence River from the city. Free trail passes give us access to the wildlife refuge where a great grey owl was recently spotted.

A few years ago we photographed a fluffy pair of baby great-horned owls there; the best shot was taken by Russ Carey with his Fujipix mirrorless camera...and his patience of Job.

Normally check-in is at 3:00 on Saturday, check out is noon on Sunday. But they let us store baggage in a locked room if you prefer not to carry it to the Botanical Gardens.

The highlights of the trip will be sunrise on the island and roaming around the historic Catholic convent where we are staying, maple sugaring party at an old-fashioned French Canadian sugarhouse with horse-drawn wagon, night shoot downtown, and shooting exotic butterflies at the Jardins botaniques. The van leaves Picton at 7:30 a.m. meeting others at the Botanical Gardens at noon on Saturday. Hope to see some of our other Quebec photographer friends for one of the 2 days, $56.50 plus entry fees, meet at the Manoir after breakfast on Sunday or at the sugar shack south of Chateauguay.

$24 maple sugaring meal and wagon ride. Lunches and suppers at your cost.

Expect to offer some tips here and there along the way, optional. Bring snacks and drinks. We can work out ride-sharing from Ontario. Share gas and parking.

Hope to see some of our Quebec photographer friends on this trip too. For those who want to join us for all day Saturday, meet at the Manoir after breakfast and we will return from Montreal after supper. Same for sugaring party on Sunday but we won't return to the Manoir.

Day-trippers may join us for a downtown pub dinner. I'll get in touch with some fun Montreal people-of-influence to join us at the pub Saturday night. Making new friends on our trips is guaranteed.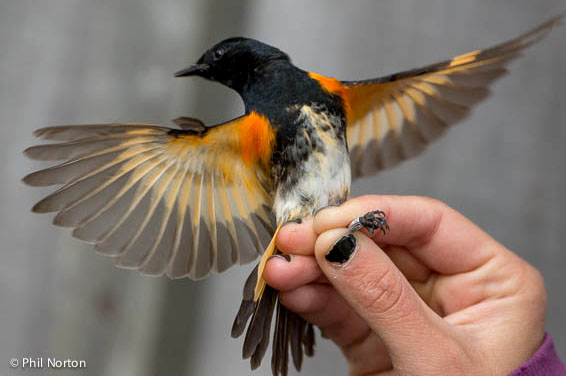 Birdathon and Nature Photography
May 12 -14 and 19 -21
Each year, coinciding with the Prince Edward County Birding Festival, we offer a series of half-day expeditions into the varied habitats of forest, marsh and shorelines. We tally between 60 and 80 species plus those we see captured in the nets at the bird banding station. In addition, you discover parks and scenery along Lake Ontario that rival any found further south on Lake Erie, the more famous birding hotspots and UNESCO Biosphere Reserve. This dirt road part of The County is still a secret gem for naturalists although there is a movement to create a national park here. Book your own lodging and meet us for the 4-hour morning, afternoon and evening tours, so we can see and hear unique species and their mating behaviours such as the woodcock and whip-poor-will, dozens of brightly coloured warblers and waterffowl such as brants, wood ducks and mergansers. Join other expert and amateur birders who join us each year from Toronto and around the Quinte Region.
* Friday, May 12 -- from 2:00 to 6:00 p.m. * Saturday, May 13 -- from 8 a.m. to noon * Friday, May 19 -- from 5 to 9:00 p.m. * Saturday, May 20 -- from 8 a.m. to noon
Click here to see photos from last year.
The Rocky Mountains, Alberta and British Columbia - June 7 - 14
The Far North, Yukon and Alaska - June 14 - 21
We did it! What a journey. Our photos and tales of adventures were presented at www.TheCanadianAdventure.com evening performance for Canada's 150th. Click here to see some sample photos on Facebook. Click here to see the variety of wildlife we encountered. And click here if you want to come with us next year!
From Calgary to Banff, along the Icefields Parkway to Jasper and up the Fraser River Valley of BC. The most spectacular geologic scenery in North America. Time to hike up into the glaciers. Grizzly bear and elk country. Mountain folks who survive by logging, mining and in the tourist meccas and ski towns. Airport in the paper mill town of Prince George, British Columbia or Whitehorse, Yukon.
It's a long road to Dawson City. This is unchartered territory for your guide. But good information has come from former residents and travelers we know. This will be the exploratory leg of the journey. Learn how to find photographic opportunities, gain access and permission, hear local wisdom and be intuitive about where the good photos can be found. A wilderness train to Alaska. wildlife and midnight sun. Return flights from Whitehorse, Yukon.
PAST photographic weekends and multi-day treks
February 17-19, 2017 -- A luxury rustic weekend retreat and photography workshop, limited occupancy in 8 rooms at this unique wilderness lodge. Those who have been to this lodge with us know how special it is with wonderful nature scenes just outside the door. The newest addition is a huge 65" TV in a surround sound theatre where we will show our pictures.
Click to see photos from this trip.
The workshop will not include car travel, just some hiking breaks from our indoor editing work. Hearty meals are included in the price. We have had several super weekends here in the past but we were always overly ambitious, going "off campus" to Bon Echo Park and local towns, out early and late. This time we will slow down, enjoy, socialize and take advantage of the 600-acre property (which lies adjacent to a big wilderness) with lake and cascading waterfalls and dark night sky. The lodge is passive solar with wood stoves, very cozy, modern but rustic, with wifi internet.
Plus meal plan catered by the couple who helped build the centre and lives at the other end of the Little Beaver Lake. Paul is the owner and his stories and opinions are worth the price of admission! There could be activities going on like wood splitting, ice fishing, ploughing the long lane and a dog coming and going. Lots to photograph. Snowshoes and skis recommended. Bears are sleeping now but coyotes and cougars have been sighted. Hoarfrost can occur on a still, foggy night around the lake, and the ice booms once in a while as it expands. Starry nights are incredible. A true wilderness experience.
As for the workshop itinerary, we will each bring a computer and images to work on. Everyone has dozens of photo shoots that we have never looked at the images! This is the time to get the best ones selected and tweaked in Photoshop. For the editing time, bring whatever snacks and drinks you want. Instructor Phil Norton will circulate and help with computer and programs one on one. He will critique your images and look at the IPTC metadata to know your exposure settings and suggest what you could have changed. Bring your best and worst shots to look at and work on. For the group Norton will give prepared slide presentations to inspire and instruct how-to techniques. There will be a demonstration to the group how to edit a shoot and general workflow from camera to web or online book publishing. Raw images that will be shown in Adobe Lightroom and how to select the good ones, crop and compose, brighten and darken and adjustments like contrast, black point, shadows, highlights, colour saturation, distortion tool and white balance. Also some fun cloning, trick photography and artistic filters. Manipulating images, creating montages and using text overlays. 3-D titles and logos can be created. Anyone who wants to learn Powerpoint and other slideshow programs on Mac or Windows can have a demonstration.
Post-processing (image editing) is half of photography. And if you work with that in mind you end up changing the way you shoot, that is, not aiming for perfection in the camera, just making an average image good enough to bring to perfection on the computer. We will look at each participant's photos, so bring many on a USB stick. The conversations around photography as art, as documentary, storytelling and shooting with a purpose are endless. That is what you can expect at the workshop, not only the instructor, but others sharing tips and solving problems, answering questions and setting you on a new course with a shooting and computer workflow system in your toolbox.
Phil Norton has been seeing life through a lens for 45 years and working professionally as a writer and photojournalist both on newspaper staff and freelancing for national magazines. Specializing in regional documentary, environmental issues and stock photography, he is no stranger to living on the road in pursuit of outstanding images from pre-dawn and into the night. But you won't be forced to work that hard!
He has explored many regions by car, bicycle, kayak and on foot and is anxious to share his discoveries and help you capture the scenes found in his own photographic portfolio. No matter the season or the weather, you will return home with an impressive collection of pictures made alongside a pro.
Depending on your level of experience we will get familiar with the basic buttons on your camera and review the exposure relationships between aperture, shutter, ISO, and light meter. Indoors and outdoors we will shoot with varied lighting conditions and use different lenses and shooting angles to improve composition.
Photoshop, Lightroom and archiving software instruction on the laptop with suggestions of the best workflow system for you. Artistic filters and Photoshop tricks. Bring along your favourite images for a gentle critique, and bring your failures that we will digitally turn into great shots. Audio, video, multimedia are all topics of interest. Norton studied basic graphic and web design at Concordia University in Montreal as well as the first Multimedia Summit workshop with the National Press Photographers Association in Portland, Oregon.
Exploring the backcountry, be prepared to walk and pack rain gear, snack, sunscreen and bug spray. Bring your telephoto lens for birds. You can always opt out of the rugged adventure and stay on the grounds at the lodge or explore elsewhere on your own. Any film or DSLR camera or point-and-shoot is acceptable; tripod recommended but not mandatory. Your photos can then be uploaded to an online gallery.
Stormy day options include local museums, photo exhibits and indoor photography tutoring.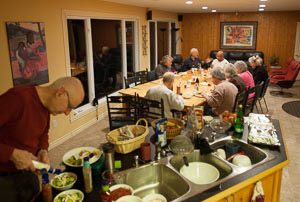 What the participants are saying . . .
I enjoyed myself immensely and feel I learned a lot from you already.
Thanks Phil, we thoroughly enjoyed ourselves (and the other participants)...it was good fun, a great place to hike, not to mention learning a good deal more about our respective cameras! . . . The weather could not have been better . . . !!
. . . all in all, a very nice outing. I can see that you're a natural teacher. . . .
Thanks so much for today.....it was Just Great and I never expected to take any photos with my little point-and-shoot camera that would be worth anything....but you showed me otherwise so I thank you so much for that!.
Hi Phil, thanks for a lovely evening, this is my first attempt at nighttime photos.
Thanks for everything. People such as you make life worth living.
Just want you to know that what you are doing is great! Everything you are offering is so wonderful . . . community-oriented, fun, stimulating, creatively inspiring, and essential.
It was great to get back "in the saddle" again - out in the elements with camera in hand, with a great group of folks with a like mind. Today was the first such outing I have been on in about 4 years and it was great.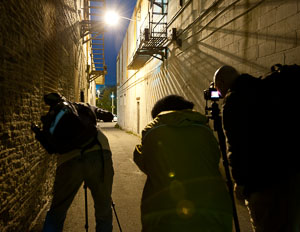 I went into your blog the other day and I really like how it is looking. Makes our photos look great. Thanks for all your hard work.
We are having a great time getting back into photography. I have to pull my wife away from the computer where she is editing her images for hours on end. We are both extremely looking forward to utilizing our new equipment.
The outings have been incredibly good for me right down to my soul. It's put me back in touch with nature, brought out my love of photography (even though I still have soooo much to learn), gotten me out of my house and off of my butt, introduced me to some very cool people, de-stressed me and so on. What I'm trying to say is you've done an awesome job.
Thanks again for a spectacular weekend.
Our intrepid group that shares all kinds of crazy weather and wonderful adventures together; thanks to our talented and energetic leader Phil Norton.
Niagara Escarpment and Hamilton, Ontario
May 2 - 4, 2014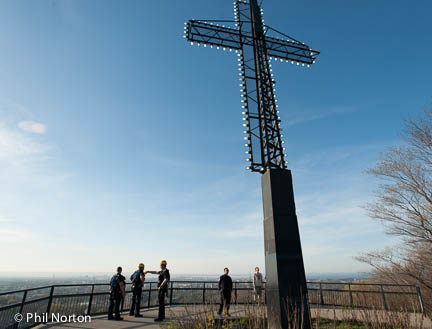 Springtime visit to the waterfalls mecca where hundreds of mini Niagara Falls run off of the rock ridge escarpment and with all of the snowfall, this will be THE year to see them. This unique natural area is right on the outskirts of one of Canada's most densely populated and industrialized urban corridors from Toronto to the USA border. We will photograph that diversity of landscape and people, day and night, with the usual fun food, drink and socializing and viewing each other's pictures. Please email if you are interested and watch this page for further updates about details. Click here to see a video of the region.
Ile St-Bernard and Montreal, Quebec
January 24 - 26, 2014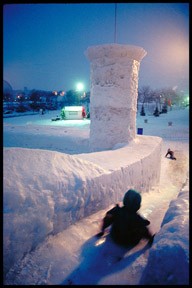 Our second weekend on Ile St-Bernard Island and tour of rural and urban Quebec has drawn a lot of interest from the Quinte Region and the Chateauguay Valley participants. We have 12 registered participants. Pricing for room and meals and workshop is under $300 at the Manoir d'Youville (see details on spring trip, below).
Click to view the photos from the trip.
A special demonstration and presentation will take place first thing upon our arrival with Scott Linstead who will fly his radio-controlled airplane drone with a video camera around the island then show us the results as well as a slideshow of his amazing wildlife photography featured in his new book.
The winter carnival Fetes des Neiges will be one of our stops as well as Mount Royal and street photography around Old Montreal, time permitting on Saturday. There is a photo exhibit to see on Ile St-Bernard and trails into deer and owl country to explore at your leisure. Cross-country skiing and snowshoeing weather-permitting.
Montreal area photographers may attend the Friday afternoon session and supper and evening presentation plus meal and trail pass $3.75 (optional).
One-on-one computer and camera tutoring each evening in the common room. View photos of winter in Montreal by Phil Norton.
Ile St-Bernard and Montreal, Quebec
May 10 - 12, 2013
View the photos from this trip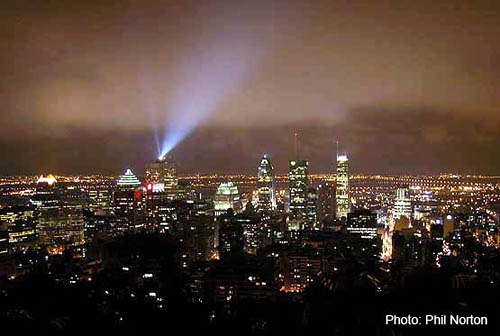 On Mother's Day weekend we journey to the Montreal region and stay at Manoir d'Youville, a former Grey Nuns convent-turned-inn. It is situated on an historic island, first settled by the French in 1673, at the mouth of the Chateauguay River where it joins a wide point in the St. Lawrence known as Lake St. Louis. See the aerial photo.
Our hosts are French-speaking but very good in English too. I lived in the City of Chateauguay for 10 years and the rural Chateauguay Valley for another 16. I worked as editor of The Huntingdon Gleaner founded in 1863 and was a photographer and writer for Le Soleil and L'Information Regional newspapers, a photography tutor at Vision newspaper at the high school, and photojournalist for The Montreal Gazette. Chateauguay's current mayor, Nathalie Simon, was one of my journalist colleagues in the 90's.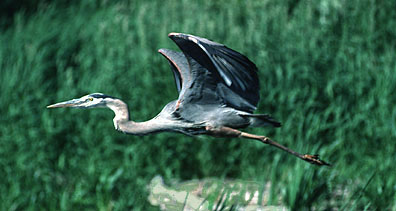 I am anxious to share this region I love, the historic French city of Montreal, so scenic day and night and culturally diverse, and the political epicentre for Canada....and the Chateauguay Valley where I lived and owned an apple-maple syrup farm. See the calendars I published with scenes of "Montreal" and the "Upper St. Lawrence". Fresh bagels, Mount Royal and the Old Port...
A special treat is our Friday evening introduction to Ile St-Bernard by superb nature photographer Dominic Gendron, someone I have known for many years and watched him develop his awesome portfolio, primarily with wildlife subjects on Ile St-Bernard island. We will meet him at the Pavilion theatre near our hotel for a slide presentation. At the Pavilion: Francois Dupont photo exhibit starts May 10th.
Local photographers will join us for this presentation and socializing at our hotel and a slide presentation and review of your portfolios on Friday and/or Saturday evening...with some outdoor night sky shooting and along the river's edge. There is also an ancient stone granary, formerly a windmill, and the nuns' cemetery that will lend well to some trick lighting at night.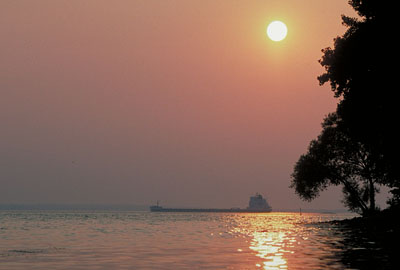 Saturday will be our day in the big city and Sunday we will explore the Valley. Leisure time can be spent on the island. If we're lucky the apple orchard will be in blossom and mid-May is peak season for warbler migration...so we will likely meet some serious birdwatchers and see some long camera lenses on the trails.
Wireless interent is available in the common spaces and possibly in some rooms. There is no in-room TV and you have the option of sharing a bathroom with other rooms. See the rooms.
All meals are included, buffet-style. Supper includes soup & salad bar, vegetables, 2 choices of meat and one vegetarian dish. Juice, iced tea and coffee are included, as well as dessert. They also provide a snack-time twice a day with fruit, homemade cookies, juice, tea and coffee.....and if we are going out for lunch, we can get brown bag lunches packed for $5 a day. Breakfast on Sat. and Sun. of course.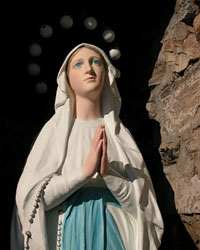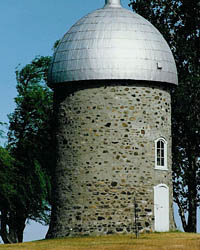 Total cost varies depending on your choice of room and seniors discount. Single and double occupancy options as well as private or shared bathroom.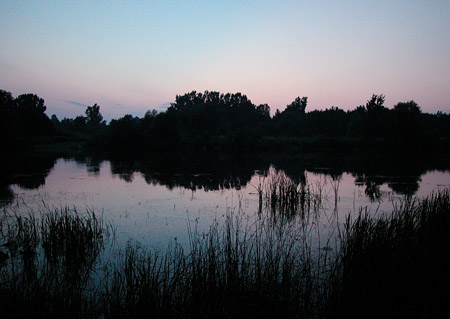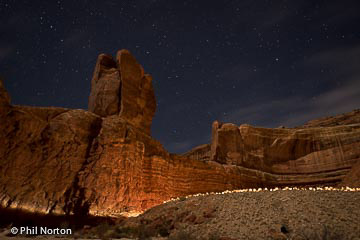 Southwest USA, March-April 2016
Click on any photo above to see more details about these trips.
County Outings is planning a 4-day trip to Point Pelee National Park and the world's first oil well in Petrolia, Ontario. Please let me know now if this interests you for May 2016.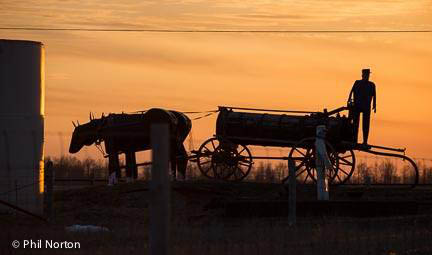 Prince Edward County Birding Festival mid-May each year. Watch for details about back-to-back outings offered during the peak of warbler and waterfowl migration. Driving and walking tours all around the horn of this unusual land jutting into Lake Ontario.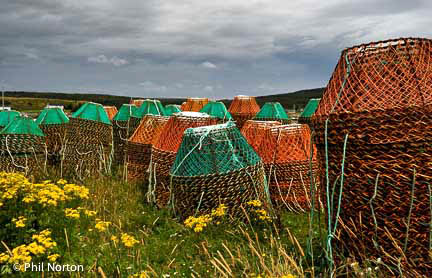 Newfoundland June 15 - 20, 2015. The Avalon Penninsula and Cape St. Mary's gannet colony with many lighthouses and fishing villages guaranteed. Hopefully icebergs too. Click to view photos by the participants from this trip.
Sumac Retreat Centre - March 27 - 29, 2015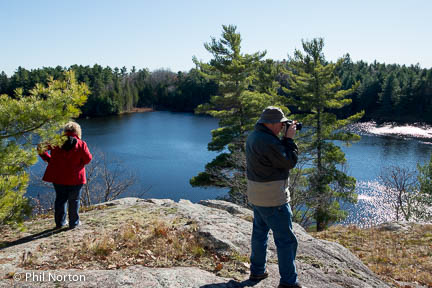 Spring thaw will provide a torrent below Little Beaver Lake through the rocky canyon on the Sumac property. As the season warms, the maple sap will run and the locals will be on-site gathering it and boiling it down to syrup. There is also a larger, commercial maple syrup producer that we can visit down the road.
Click for the in-between seasons Photo Gallery.
Besides the usual good eating and evening computer photo editing, portfolio reviews and group slide shows, we will venture out on foot to Bon Echo Provincial Park with its magnificent Canadian Shield rocks and cliff face across the pristine lake. Perhaps the early migratory waterfowl will be there too.
8 rooms with double occupancy are available, or pay more for a private room. Sign up to receive the County Outings E-newsletter for more details: phil@philnorton.com
Click to see photos of a winter trip to a lodge near Sharbot Lake, Ontario. And click here for scenes in the early fall.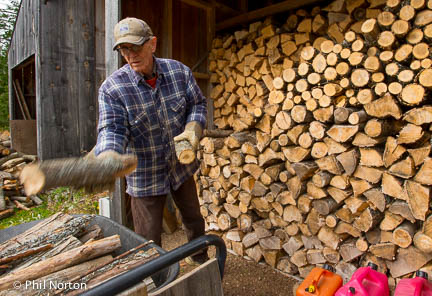 Mont St-Hilaire and Montreal - Feb. 13 - 15, 2015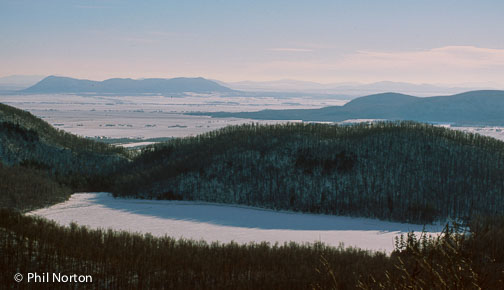 Just east of the metropolis rising out of the flat St. Lawrence plain is one of the Monteregian Hills where we will stay at the Mont St-Hilaire retreat centre. We rent 2 complete chalets with a kitchen and living room for our workshop, slide shows and computer/camera tutoring times. Each room has 2 bunk beds but you can have a room to yourself or double up to save money. The mountain trails are incredible for snowshoeing and cross-country skiing and walking right outside your door, with a volcano-like middle filled with a lake and a dramatic lookout from the top of a cliff. See photos from this trip.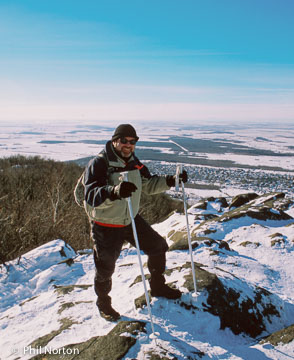 It is less than an hour's drive from Montreal centre-ville where we will tour too. Each chalet has only 4 rooms so sign up quickly and if we have enough participants we can rent the other chalet. Bring home great images and Montreal bagels! For more details... phil@philnorton.com
Sumac Retreat Centre - Oct. 31 to Nov. 2, 2014

A relaxing weekend at the rustic lodge near Sharbot Lake for a late autumn retreat before the snow flies. If you have never been there, this is only an hour and a half drive from Picton and it is at the end of a long dirt road, dark sky area overlooking the lake surrounded by hundreds of acres of bear country, marshes and rocky streams. The Land O' Lakes - Frontenac Arch region, within an hour's drive of Bon Echo Provincial Park. It is a spacious conference centre, a mix of rustic and modern and owner Paul Scott is a fun host. Bring-your-own food. This will be a workshop retreat with a difference. No intense travel schedule to shooting destinations, although you are free to take a drive on your own. So we will stay on-site and explore the local area at your leisure with camera shooting instruction ongoing and one-on-one computer sessions for portfolio reviews and how-to post-processing….also group sessions to look at each other's photos and slide shows on Paul's new big screen TV. To keep expenses to a minimum, bring your own food to prepare in the huge kitchen. Priority will be given to double occupancy reservations and regular participants of our County Outings program. There are 8 rooms for guests.
Ottawa and Gatineau Park, September 19-21, 2014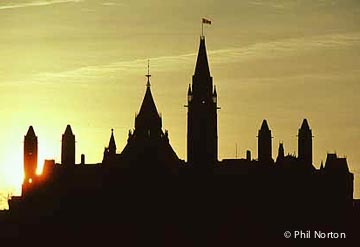 A weekend photography workshop in the nation's capital region during the start of coloured leaves. Destination: Ottawa, Ontario and the Gatineau Park on the Quebec side of the Ottawa River. Approximately 4 hours' travel time each for our Prince Edward County, Ontario and Chateauguay Valley, Quebec members. If interested contact phil@philnorton.com
Click to see photos of Gracefield and the Gatineau Valley taken in August 2014. View more photos: http://www.facebook.com/countyoutings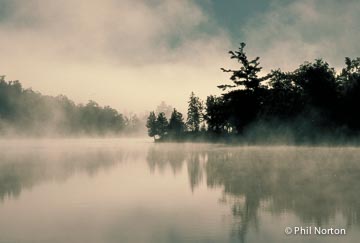 Algonquin Park in August 2013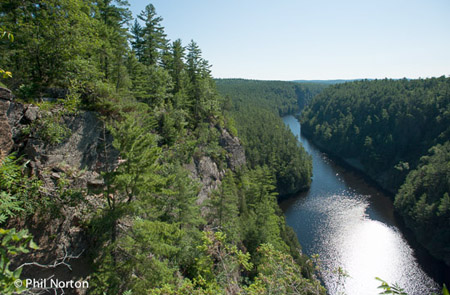 August 24 - 25, 2013 -- A 30-hour excursion for photographers and naturalists into the wild and relatively unknown northeastern sector, leaving from Picton-Belleville around 5:00 p.m. and returning next day by 11:00 p.m. Photos taken on this trip: click here.

I explored this area recently mostly on foot and then some kayaking, but all of the points of interest are accessible on foot, such as the rocky point where Tom Thomson of the Group of Seven painted "The Jack Pine", and the canyon overlook.
The drive is 3 hours+ via Route 41 north of Napanee via Bon Echo Park. For accommodations, Pembroke is nearby on the Ottawa River. We will enter the park by 8 a.m. An Ontario Parks pass is valid if you have one for Sandbanks / Presqu'ile Parks. You can view some photos taken before the trip: click here.
Sumac Centre, Ontario -- October 4 - 6, 2013
Autumn splendour in the Frontenac Arch region, rocky Canadian Shield country. A repeat of our winter getaway (see below). Must book it now before the leaf-peeping tourists get there first. Please RSVP your interest immediately.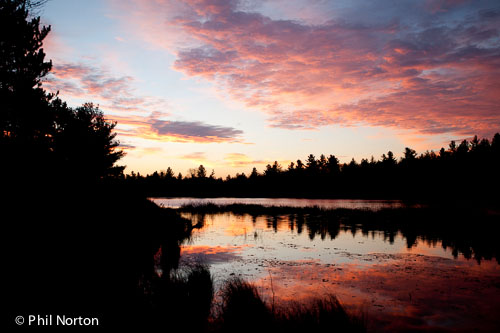 Group Of Seven, Ontario -- February 1 - 3, 2013
Group Of Seven winter weekend retreat to the Sumac Centre lodge in the wild "Land O' Lakes" region. Indoor camera/computer sessions and portfolio reviews on the screen along with outdoor shoots on the 600-acre property as well as a day trip along the Frontenac Arch back roads and in small towns, including North of 7 country which was made famous by the Group Of Seven painters. Bon Echo Provincial Park and the village of Sharbot Lake, Ontario. Rooms with a view. Click to view photos.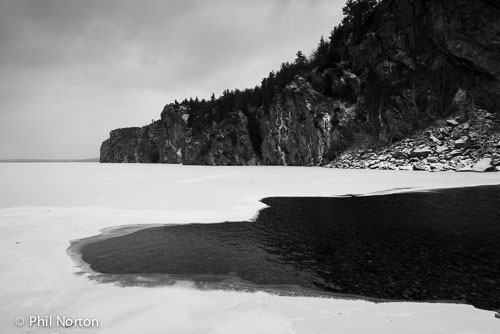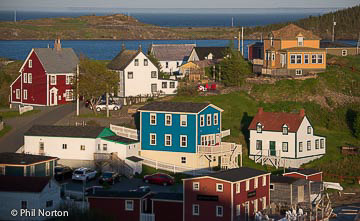 Newfoundland in June 2016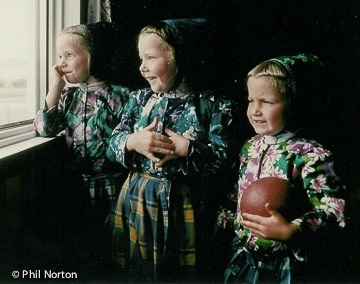 The Canadian Prairies, August-September 2016