FRANÇAIS
Heures d'ouverture: juillet à octobre tous les jours 9h à 18h. Autre période de l'année: sur appel. Auto-cueillette: pommes, bleuets, prunes. Aussi disponible: poires.
De janvier à juillet: pommes à atmosphère controlée.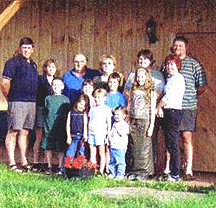 Situé dans un milieu rural qui jouit d'un micro-climat idéal, "LES VERGERS FRANKLIN" est une entreprise familiale fondée en 1975 par un couple de citadins, Fernand et Claudette Barré. Depuis la relève est assurée par les enfants de la famille.
Dans un décor de villégiature, prennent place de superbes vergers semi-nains planifiés pour l'auto-cueillette avec plusieurs variétés de belles pommes succulentes. La période débute à la mi-août et se termine en octobre.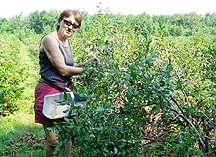 A notre kiosque champêtre, vous découvrirez de véritables régals: pains, tartes, beignes aux pommes, muffins,et autres pâtisseries cuisinées avec nos produits de la ferme. Aussi des produits maison: confitures, gelées, beurre de pomme ou bleuet, marinades ainsi que notre renommé " nectar de l'Eden" (jus de pomme naturel) sont de douces tentations pour les fins gourmets.
Notre kiosque vous offre également de superbes paniers cadeaux...et que dire de notre sirop d'érable et ses sous-produits sinon qu'ils sont irrésistibles.
ENGLISH
Business hours: July until end of October, every day from 9:00 a.m. to 6:00 p.m. November until end of June, please contact us. You pick: apples, blueberries, plums. Also available: pears.
From January to July: controlled atmosphere apples.
Located in a rural area blessed with an ideal microclimate, "LES VERGERS FRANKLIN" is a family enterprise created in 1975 by a couple of urbanites, Fernand and Claudette Barré. Since then, their children have taken over the business.
In a resort setting, lie magnifient orchards of semi-dwarf trees filled with several varieties of beautiful succulent apples for you to pick. The season begins in mid-August and ends in October. At our country stand, you will find various delights: breads, pies, apple donuts, muffins and other pastries made from our farm produce.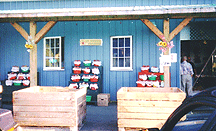 Also, mouth-watering homemade products: jams, jellies, apple and blueberry butter, pickles as well as our renowned "nectar of Eden" (sweet cider) to name but a few of the sweet temptations for the gourmet.
Our stand also displays lovely gift baskets...not to forget, our specialty, real golden maple syrup and its by-products that you will find impossible to resist.
2340 Route 202, Franklin Centre
Telephone: (450) 827-2913
Toll free: 1-866-434-2913
E-mail: verger@rocler.qc.ca