50th anniversary of Silent Spring
2012 marks 50 years since the publication of Rachel Carson's landmark volume and various events are scheduled to commemorate her pioneering work such as at Chatham University where she graduated in 1929. See photos and link to the Rachel Carson Homestead Association.
Marcellus shale gas extraction
Since 2009, one of the most pressing issues facing rural western Pennsylvania is oil and gas drilling. State parks, state forests and the Allegheny National Forest were the early targets of the energy companies and now drilling has come to farms and towns. Millions of gallons of pure stream and groundwater are being contaminated during the hydro-fracturing process to open up new wells. Hundreds of miles of roads are being bulldozed through the wilderness, all of it sanctioned by law.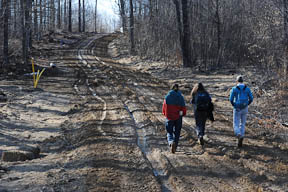 One group is leading the fight to preserve the wilds. Allegheny Defense Project (ADP) has a ForestWatch program with a network of dedicated volunteers to inform the public about the status and risks of mineral and timber extraction.
Click here to donate or subscribe to ADP's newsletter.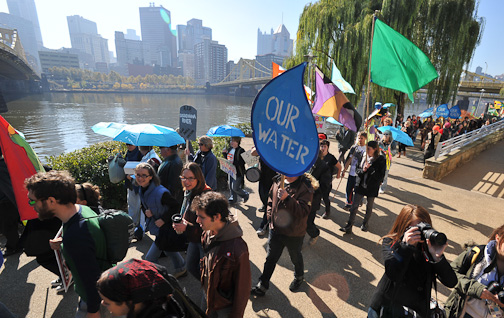 In November 2010 a Marcellus shale gas protest march crossed the Rachel Carson Bridge from North Side to downtown Pittsburgh and held a rally outside the convention center where the gas industry was meeting. High profile opponents to fracking, like Josh Fox of the movie Gasland and city councillor Doug Shields, spoke to hundreds of citizens. Shortly afterward, Pittsburgh became the first American city to ban hydraulic fracturing.
Hunters will be shocked to see drilling activities in the North Country.
Another organization serving as a responsible watchdog over the oil and gas industry is The Pennsylvania Forest Coaltion, an allianceof "2,492 hunters, hikers, anglers, landowners, wildlife-watchers, paddlers, bikers, churches and conservation groups who are united in our concern for the stewardship of our public lands."
A more pro-petroleum industry perspective on this controversial and politicized issue is worth reading online at EnergyFactsPA.com.
On Facebook, Marcellus Protest has been tracking the spread of gas drilling internationally.