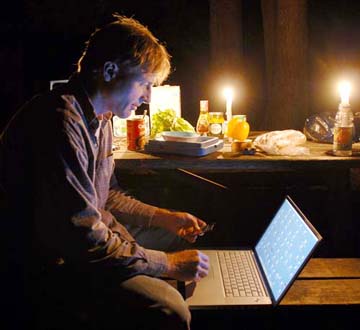 Photojournalist Phil Norton is retracing Peterson and Jarrett's travels using 21st century technology. Here he uploads digital camera files to his laptop computer at the Sinnemahoning State Park campground.
Born during in 1957, the year that Jarrett and Peterson made their legendary travels, I have been intentionally retracing their path on and off for 35 years. I grew up in the same town as photographer Tom Jarrett and took up the same profession as a photographer.
My mother had author Edwin Peterson as a professor at Pitt.
As an environmental science student at Penn State, I became familiar with places like Kettle Creek and Spruce Creek and the Amish mountain country where Tom's wife grew up. I interviewed him in his later years for an article in the 1980 Pittsburgh Press Sunday Roto Magazine.
With various friends, including Tom's grandsons, I walked the Laurel Highlands Hiking Trail, bicycled through Allegheny Forest, and kayaked the Clarion.
With my parents, who are life-long supporters of the Western Pennsylvania Conservancy, I came to know many natural areas, such as the Allegheny Reservoir, Ohiopyle and Moraine even before they became parks.